What do I do in a plumbing emergency situation?
You never know when a plumbing emergency is going to strike. When it comes to a plumbing emergency, the sad reality is that it often happens at night or on the weekends. The good news is Mr. Plumber is always available; day or night! However, having a few key items on hand is always a good idea in case of a leaky pipe or a clogged toilet. Below is a list of tools that should always be kept at home in case of a plumbing emergency.
Top 5 items to keep at home in case of a plumbing emergency:
A 5-gallon bucket in case of a slow leak

Duct tape and sealing tape to help out until Mr. Plumber can come to your home and fix the plumbing issue

A common cup plunger and a specialized plunger (like an accordion plunger) for extra suction power

Wrenches, wrenches and more wrenches: they are the most commonly used tool in the plumbing world.

Keep our plumbing emergency hotline handy (902) 626-6172
Some other important things to know are how to turn off the water near the source of a leak (like the toilet), as well as the main shut off valve for the house. Knowing where the water heater is and how to turn it off would also be useful information in case of an emergency. Not sure where these are? Mr. Plumber can stop by and do an inspection of your home and show you key water valves in case of plumbing emergencies.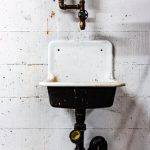 Have a plumbing emergency or need plumbing services?
– Call us during the day at 902-894-8836

– Mr. Plumber after hour plumbing emergency hotline

902-626-6172
Mr. Plumber
Blair LaPierre Inc.
104-293 Allen Street
Charlottetown, PE C1A 2W1
Tel: (902) 894-8836
Fax: (902) 368-1894
Toll-Free: (888) 275-5888
Post By: Megan Arthur, advocate for leak-free homes everywhere!