Why should remodeling your bathroom be your next project? To start, beautiful bathrooms can improve your mood!
You spend all spring getting your exterior ready for the summer so you can be the envy of the neighborhood. But what about your inside? Does it stand a chance against the house three doors down?
4 reasons why remodeling your bathroom is a priority
Chances are remodeling your bathroom hasn't been a priority. Everything in life needs a revamp. You change your bedroom sheets; you wash your curtains, fluff out living room pillows so why not remodel your bathroom? Even if it's changing your shower curtain, that little change will go a long way. Your general mood will likely improve with an update to the most used room of your home!

If you bought your home from someone else, you may feel like, 'I should probably leave it this way'. WRONG! You should be happy with every inch of space in your home. You don't have to do anything major, but, it should be what you want. When your bathroom is how you like it, your mood normally increases!

Pick a color in your bathroom that makes you feel comfortable. Studies show the right colors can improve your mood. Do you want your bathroom to be a calming place to visit? Use a subtle grayscale to keep the room calm.

Lastly, your plumbing is probably outdated. The 1950's are long gone and so are your pipes. Did you know that taking hot showers on old pipes are not good for them? This is especially true if the pipes are cold (we know a little bit about cold pipes on PEI!). Sometimes, pipes can burst to cause you to spend a lot of money. So, you are better off replacing old pipes before a problem occurs. 
Doing a few simple things or completely remodeling your bathroom can dramatically improve the way you feel about your home and improve your general mood. Not to mention, having a better bathroom than the Jones' down the street can give you a strong sense of home pride. So go on, take the next step and start planning a remodel for your bathroom.
Need design help & help with the actual remodeling work? Mr. Plumber has decades of experience designing & remodeling bathrooms from beginning to end. We aren't just plumbers, we are experienced remodelers!
Contact Mr. Plumber Services
Mr. Plumber
Blair LaPierre Inc.
104-293 Allen Street
Charlottetown, PE C1A 2W1
Tel: (902) 894-8836
Fax: (902) 368-1894
Toll-Free: (888) 275-5888
Design a bathroom like this with us!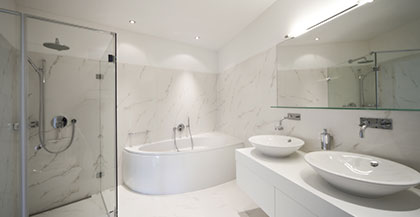 Posted by: Kaii Tilley, lover of beautiful bathrooms everywhere!