Looking for a few quick tips on how to get your heat pump ready for the cold season on PEI?
If you are reading this in November, you're late! It's time sensitive to get your heat pump prepared for the cold season. Why?
You wouldn't believe the number of calls we get in the "Cold Season" from customers that installed heat pumps themselves, didn't maintain their heat pump or didn't follow these steps.
We want you safe and to stay warm PEI! Check your heaters before things get too cold & invite us over for professional maintenance.
You'll be glad you did when you enjoy peace of mind and a warm home all Winter long.
How to Get Your Heat Pump Ready For Cold Season on PEI
Check Your Air Filter: Check your air filter on your heat pump

Clean air is vital for you and your heat pump. Fresh air in your home will keep you healthier, and your heat pump will crank out more warm air. If your air filter is clogged, your heat pump will work extra hard. Dirty air filters will cost you money in energy and could cause your heat pump to break down from overuse.

Create Space: Clear away anything outside that could block air from flowing in through your heat pump. You need about 4 feet of space around the unit (inside and outside) for it to run effectively.

Look for fallen leaves, debris, or anything else that may get in the way.
Move anything inside the home that could block the air flow from circulating.

Test Run: Before it gets cold, do a test run to see how it is operating.

Do you smell a burnt odor?
Do you hear anything odd?

If you do, you should call us to test it.

Does it smell moldy or like an old gym bag?

Bacteria grows everywhere including interior coils of heaters. Bacteria in your heaters could make you sick.

Does your heat pump blow cold air?

Call us immediately if your heater is blowing cold air. Cold air out of a heater means it's failing.
Mr. Plumber gladly serves PEI with contractor services including heat pumps & heaters. We have been doing this since 1977, so we know a thing or two about these units. We proudly carry a variety of heat pumps to fit your needs.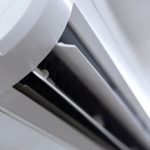 Mr. Plumber
Blair LaPierre Inc.
104-293 Allen Street
Charlottetown, PE C1A 2W1
Tel: (902) 894-8836
Fax: (902) 368-1894
Toll-Free: (888) 275-5888
Written by Joel Sellentine: Mr. Plumber's heat enthusiast