About Mr Plumber
Our Team
Blair LaPierre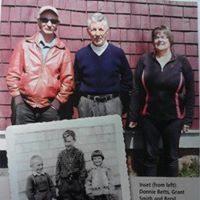 From a very young age, Blair dreamt of being a plumber. He grew up on a small mixed farm at his home in Red Point. While watering the cows daily he thought of better ways to deliver water to them. He dug trenches, laid pipe and from that point on he knew his calling. He graduated vocational school (now Holland College) with his Red Seal certification and immediately hired his first plumber to start his very own business. Within 2 years he started his retail location and over the years the company has flourished into the largest full-service plumbing operation on the island. Blair has been a long time member of the Chamber of Commerce and has received their business excellence award for service and marketing. He is also a member of the CFIB (Canadian Federation of Independent Business) and has been a member/ supporter of the Construction association where he sat on the board for 19 years and has earned the award for "Safety Excellence". Blair is also a Gold Seal certified mechanical contractor. Just to name a few of his accomplishments. Today, Blair is still working hard but always takes time for his family. He enjoys his three grandchildren and to them, he is "Grampy". All three kids love to skate and with one in hockey, it's music to Blair's ears as he loves "the game". He is a member of the board at his church and has always been heavily involved in the community. Blair is a truly proud Islander.
Heather LaPierre
Heather is the wind beneath Blair's wings. From the beginning she has stood beside her husband, helping make his dream of owning a successful plumbing company a reality. In years past she juggled everything from service calls, raising three beautiful children to nursing. Today you will find Heather is a prominent face in the community, supporting charities like the hospice association, special events, mingling and hosting business functions. Amongst the many duties of being a business owner Heather is also the head of human resources and the head motivator for her husband Blair.
Grant Smith
Grant is our operations Manager at Mr. Plumber and has been with the company from the beginning when they were first located at 56 St. Peter's road. The staff included Blair, Heather, 1 plumber and himself. Grant took a 3 yr Plumbing course at the Provincial Vocational Institute [now Holland College] in 1970-1972 and went on to work at Moore well drilling for five years. After that he worked at Home Hardware in sales for the next five years until he started with Mr. Plumber and the rest as we say is "history".
Glen Gardiner
Glen is a Commercial Estimator and Project Manager with Mr. Plumber. He specializes in Commercial and Residential energy efficiency and is an accredited installer of the Canadian GeoExchange Coalition. Glen has been with the company since 1996.
Hannah Duguay
Hannah is the dispatch service manager and since 2008 she has been keeping the service plumbers in line "literally". Her job is to receive and coordinate all service calls and time manage the plumbers. Along with setting up and managing customer accounts, She deals directly with the public in resolving any questions or concerns they may have.
Kenny Bain
Tracy Croucher
Plus a highly skilled, qualified team of red seal professional plumbers and apprentices.