Independent Living Considerations To Make Life Easy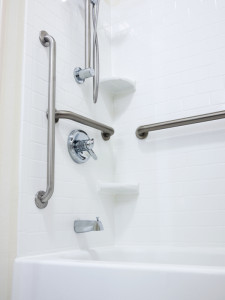 When considering a bathroom remodel, you may want to think about creating a space for assisted or independent living.
Understanding your many choices is the first step. Here are some options to make life easier, regardless of age, illness or disability:
When considering a bathroom remodel, you may want to think about creating a space for assisted or LEVERED HANDLES OR ELECTRONIC HANDS-FREE FAUCETS – Traditional bath faucets require twisting & turning to operate and present a challenge to those with limited mobility.  Lever handled faucets offer unparalleled ease of use.
GRAB BARS & HANDRAILS – Stable, decorative, (un-commercial looking) wall-mounted grab bars add safety and security to any bathroom.
COMFORT HEIGHT TOILETS – Sometimes a little assistance is all you need.  Comfort height toilets are two inches taller but that added height makes all the difference when it comes to your sense of ease.
 LAVATORIES/SINKS—That is adapted to you, not the other way around.  Wall-mounted vanities offer easy access and enhanced mobility for seated users.  Over-hung lavatories can be installed at two different heights to accommodate multi-users.
BIDET SEAT – Hands-free cleansing bidet seats offer increased comfort and a refreshed feeling of confidence and well-being.  They also aid physically challenged people from standing, reaching, bending and other movements that may be painful, difficult or impossible.
HANDSHOWERS – Conventional wall-mounted showerheads are fixed in place, requiring you to bend and reach to meet the flow of water.  Hand-showers allow you to effortlessly direct the flow of water and can be hand-held or mounted on a slide-bar for hands-free operation.  They are easy to use standing or sitting.
SHOWER & SHOWER BASES – Appealing products and well-thought installation can meet the challenges of changing needs without sacrificing your home's style.  Many shower receptors offer a low-threshold and slip-resistant surface of easy access, confidence, and safety.
THERMOSTATIC VALVES & TRIM – Pressure-balanced/anti-scalding thermostatic valve technology protects against unexpected fluctuations in water pressure and provides constant safe water temperature.
LOW STEP-OVER BATHS/WALK-IN BATHS – Offer full-access solutions that go beyond the ordinary.  A line of step-over bath/walk-in baths are sensitively engineered to make the transition in-and-out of the bath as easy as possible allowing for a luxurious bathing experience with no compromise to comfort or style.
Awesome deals just for you!
Check out these promotions from our partners.
We're super certified!
We're literally tripping over them. It's ridiculous.
Hi Grant: I want to take this opportunity to let you know that we are very pleased with the workmanship and manner in which all the work was done for us in January. All of the Tradesmen involved, Elric MacDonald, Jeremy Doucette, Glen Roberts as well as Grant Smith and Don Proude at Loyalist Marble were most helpful in helping us choose our fixtures and making sure the work was completed as efficiently as possible. Thank you for all your help.

Sincerely, Don Webster

Hi Grant: Just to let you know that Wayne Huston came today (Friday) and explained the in-floor heating system to me. He was very helpful and now- for the first time- I feel very much at ease with our heating system. As indicated to you before, we will call Mr. Plumber should we ever need help with any of our heating or plumbing needs. To date your staff has been both courteous and competent, and we are well satisfied.

Regards, Michael

Hi Blair….I just wanted to let you know how impressed I was with Jason Laybolt. I have never worked with him before. We cut the floor at Kays Brothers yesterday and as expected, we cut a bunch of heating lines and a few Heating Mains. Jason had it all patched and heat back on at 4.30 pm. I was in this morning and no leaks. Building is heating fine…..another quality job by Mr. Plumber.

Austin MacDonald